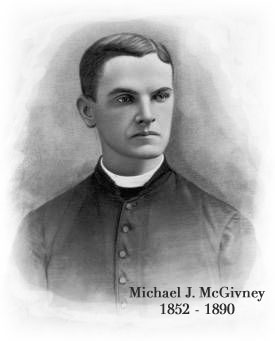 On October 2, 1881 a small group of men met in the basement of St. Mary's Church in New Haven, Connecticut. Called together by their 29-year-old parish priest, Father Michael J. McGivney, these men formed a fraternal society.
The Catholic Family Fraternal Organization now counts over 1.7 million members in nine countries. It has become the largest lay order in the Roman Catholic Church and has been described by the late Pope John Paul II as the "right arm of the Church".
St. John the Evangelist Knights of Columbus Council was formed in 1959 and received its charter on February 1, 1960. Charter Grand Knight was J. H. (Jimmy) Smyth. At that time the council was part of District #4, consisting of Peterborough, Lindsay, Cobourg, Oshawa, and Whitby.
For the first two years meetings were held in the old St. John's church on Palace Street. The Brewers retail Store on Brock Street North was purchased and renovated for the present hall and council chambers. In the late 60's a new council was formed in Oshawa, prompting the formation of District #36, consisting of the two Oshawa councils and Whitby.
Through the years the Knights of Columbus have been active in church and community work. They support the community, the church and our youth.
St. John the Evangelist Council #4895